Dreisilker Electric Motors is an authorized Yaskawa distributor and service provider. Yaskawa is the world's largest manufacturer of quality AC Inverter Drives, Servo and Motion Control, and Robotics Automation Systems. Our service technicians are trained through Yaskawa to find the best solutions for your Variable Frequency Drive needs.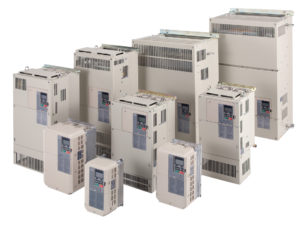 A1000 General Purpose Drive
The A1000 is a full featured drive, providing outstanding quality, performance, flexibility, and environmental friendliness through 1000HP.

Enjoy network communications, feedback, and expandable I/O to control anything from simple fans and pumps to complex machines.

For new installations or retrofits, the A1000 provides a single robust solution, regardless of your application.
J1000 Industrial MicroDrive
The J1000 is a world-class compact variable frequency drive that defines a new world standard.

Demands for efficient production and better maintainability are on the rise, spurred by global competition.

Yaskawa drives have earned a reputation for high performance, high functionality, and high quality.
The P1000 drive provides simple, reliable, cost-effective control for variable-torque loads through 1000 HP.

Specific application features, energy savings, and network connectivity make the P1000 a great choice for industrial fans and pumps.
The Z1000 variable speed drive is designed for building automation applications such as fans, pumps, and cooling towers through 500HP.

The Z1000 features an easy-to-read LCD keypad that provides Hand-Off-Auto interface and a real time clock.

These features make the Z1000 perfect for many building automation applications that require reliable motor control.
iQPump 1000 Speciality Pump Drive
Yaskawa designed the iQpump®1000 with pump service operators and pump system owners in mind. iQpump1000 offers ease of setup and comprehensive pump and motor protection features.

The integrated pump specific software and set up parameters allow the operator to program control values for a wide range of applications.

The iQpump1000 will automatically adjust pump operating conditions, as the process variables change while still maintaining optimum pump performance and protection.

iQpump1000 can also replace phase converters when converting from a single-phase to a three-phase pump motor.
Motor Reliability Services