Electric Motor Repair Services
DREISILKER has mastered the art of electric motor repair. Our advanced MotorSafe Repair process often improves equipment beyond its original state. This electric motor repair method is an uncompromising process which has been painstakingly perfected to result in a repair that will match OEM specs or better.
All repairs begin with thorough documentation, testing, and inspection. Rewinding starts with the original windings being carefully removed by our MotorSafe stripping method. This method maintains the integrity of core iron and mechanical characteristics without damage. In 30 years of using this method, we have never damaged or distorted a single rotor.
All coils are wound on computerized machines for uniformity and accuracy utilizing Class H wire, phase insulation, and other insulating materials. Windings are tied down at both ends and electrically tested prior to varnishing. Stators and armatures are processed on trickle varnish machines which offer six distinct advantages over conventional dip and bake methods. Form wound coils are made in house and are completed in our Vacuum Pressure Impregnation System.
Recognizing no two repairs are alike, we also have the flexibility to meet a wide variety of customer repair requirements. We carry a full stock of replacement parts, materials, and a complete wire inventory to handle special repairs. Our many capabilities include complete machine shop services, CNC lathe, dynamic balancing, vibration analysis, transformer winding, documentation, assembly, and testing. Let us help you with electric motor repair to get your operations up and running at premium efficiency.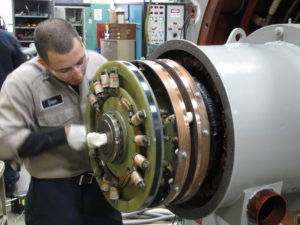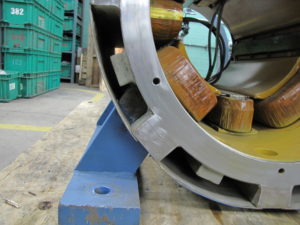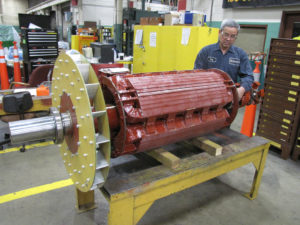 Motor Reliability Services