Spindle motor repair is an important piece to the reliability of your operations and Dreisilker understands that high precision and close tolerances are critical for spindle motor repair. That's why incoming Spindle motor repairs are tested thoroughly and photographed before a formal quote is produced.
Dreisilker technicians run electrical tests and, if possible, test run the actual motor. Our technicians disassemble the motor and the motor's bearings and journals are visually inspected. The motor's stator is steam cleaned and sent to our winding department for testing. Dreisilker's machining department measures the motor's bearing housings and shaft journals. The work that we put into your motor before a repair even begins is what helps us return your motor back to it's like-new condition.
Dreisilker has an extensive collection of Servo and Spindle motor drives, so we're able to test feedback on most motors. Dreisilker inventories many replacement parts and we're able to source most non-stocked parts from our suppliers.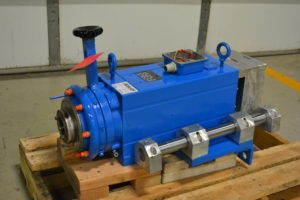 Dreisilker's high precision and close tolerance repair often returns motors back to like-new condition.
Servo and Spindle Motors are thoroughly tested before quote is generated.
Dreisilker stocks many replacement parts in our inventory allowing for quicker repair turnaround.
Motor Reliability Services